Motor City transplant Richard Fisher has built Squeezebox Records into a music-lover's mecca
Richard Fisher's lifelong love affair with music, and more specifically vinyl, started at the tender age of 12 when he purchased his first album, Aerosmith's Get Your Wings, at a record store in his hometown — the fabled musical mecca Detroit, Michigan.
Beyond giving us the automobile and Mr. Fisher, the Motor City gave us Motown Records, Alice Cooper, Bob Seger, protopunks The Stooges and the MC5, and more recently, Jack White of The White Stripes and The Raconteurs. It's there that Fisher got the spark that, decades later, turned into the only record store within Wilmington city limits, SqueezeBox Records.
During a stint in the U.S. Army, Fisher met his wife, Kim, a native Delawarean, and they moved to the Small Wonder in 1981 and have called it home ever since. Fisher owned a paint company for more than a decade until, at age 39, he was diagnosed with pancreatic cancer. After a life-changing eight-year battle with the disease, Fisher decided to pursue his true passion. So, he and Kim began looking for retail space for a record store.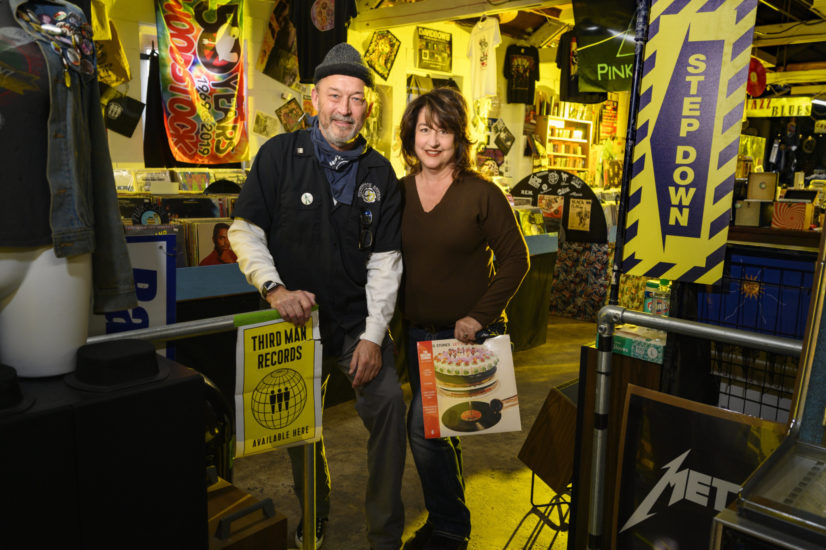 According to Fisher, it was love at first sight when they found their location on the outskirts of Wilmington's Little Italy neighborhood.
"We were looking for a nice spot to open a record shop in Wilmington," Fisher says. "The reason was glaringly straight forward: there had not been a full-fledged record shop in the city limits for a very long time. I knew that if the folks from the city were into music half as much as me, then it would work. As soon as Kim, my wife, saw the garage door at the shop, she knew we'd found the place. We signed on the dotted line and began building SqueezeBox Records at 1901 West 11th Street."
Opening in 2017, SqueezeBox Records filled not just a niche for local vinyl enthusiasts, but for folks looking to put together a killer home stereo setup through its sale and repair of vintage turntables, amplifiers and speakers. It also quickly became a place for original bands to showcase their music in a live setting — something Fisher hadn't planned on.
"When we opened, I was under the impression that we would have a nice little shop where you could come in, buy a record or two, and that was the extent of my thoughts on a retail space for vinyl," he says. "Things didn't stay that way for long, however. Local musicians started asking questions about hosting live performances, having events, doing record nights, etc. Shortly after, we put the stage in and started having local bands play. Kenny Vanella was one of the first. There have been many others: Kitty Rotten, Pristine Reign, Two Bananas, Blood Money, and Think Machine, to name but a few."
Another natural progression has been focusing on carrying releases from Jack White's highly successful and influential Third Man Records label. For Fisher, it was a synergy of great music and getting to celebrate his Detroit roots.
"I'm from Detroit, so it is only natural that I would have some type of connection to Third Man Records," Fisher says. "I was already grown and gone by the time TMR opened their doors. A few months before we opened the shop, we went to see my younger brother in Detroit. On that trip, I stopped into TMR and spoke with a salesperson about carrying their products.
"After getting back to Wilmington, I made a few phone calls and finally got a hold of TMR Distribution. Ultimately, we got the go-ahead and have been working with them on various occasions to promote their products. We were surprised when we got a phone call from Cam Sarrett, distribution manager of TMR Nashville, asking if we could host a show on short notice for TMR recording artist Olivia Jean. We agreed. Needless to say, it was a great time!"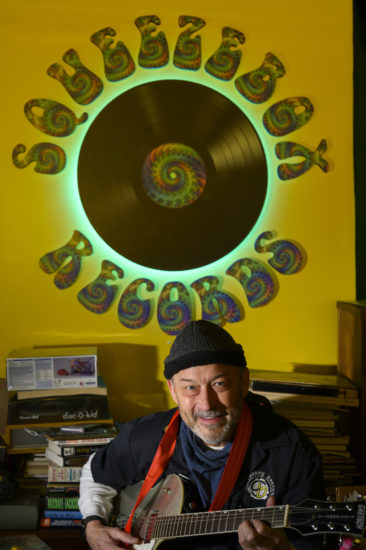 Fisher's personal relationship with Third Man is evident the moment you walk into the store, with TMR having its own dedicated section among the other vinyl. Upon the release of Jack White's 2018 LP Boarding House Reach, the store hosted a listening party with a giveaway of an exclusive, one-sided, tri-color 45 RPM single by White. More recently, SqueezeBox was one of only 55 independent record stores to participate in the giveaway of a test pressing of the much-anticipated 2021 release of The White Stripes Greatest Hits.
After many failed attempts to assist various local bands with getting their recordings released and distributed through some of his music business connections, Fisher decided to take matters into his own hands, and a new Squeezebox Records' endeavor was born: a record label.
The first single, already out on streaming platforms, is by local reggae/R&B artist Kenny Vanella, who has newly christened his longtime backing band as Higher Fire. It features the A-side of "Our Song" with the B-side being "Riverwalk," both original compositions by Vanella and the latter inspired by Wilmington's own Riverfront. Vanella is ecstatic at the opportunity to release his material on vinyl.
"The experience has been really great," Vanella says. "[Fisher's] passion and knowledge for music and vinyl is a true blessing, not only for our great city, but to music lovers everywhere.
"His attention to detail on this project has been amazing. He hooked us up with Range Recording Studio in Ardmore (Pa.) as well as Third Man Pressing (Third Man Records' vinyl manufacturing imprint). All the vibes are right, and we're just really excited and thankful for the opportunity to showcase our music in this way."
The vinyl drops in mid-spring. And Fisher hopes it's just the beginning. "As far as if there will be any others… well, the plan is to record some of Wilmington's great local artists that have played at SqueezeBox Records until we simply can't."
For Wilmington's growing population of record collectors (a group whose ranks have swelled during the pandemic), Detroit's loss of Richard Fisher has been our gain. In his charming and unassuming shop, he's created an oasis for local bands and fans alike and created a space where his passion for life and music is on full display.