Homegrown ingredients infuse summer cocktail season
By Michelle Kramer-Fitzgerald & Stacey Silvers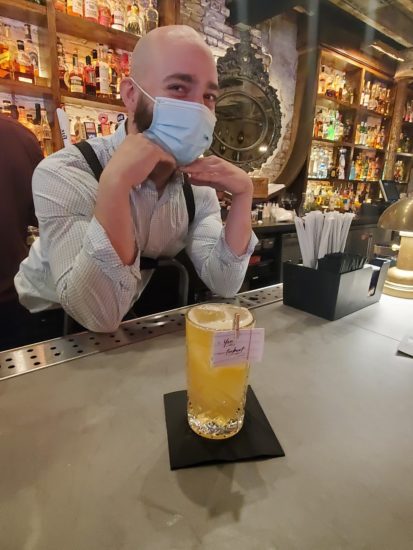 The farm-to-table movement has enjoyed mainstream popularity across the country for a while. Now, this phenomenon is expanding into craft cocktails (perhaps heralded in by a year homebound and the anticipation of a brighter summer).
According to the 2021 National Gardening Survey, 42% of U.S. households reported participating in food gardening (e.g., vegetable gardening, fruit tree cultivation, growing berries, or herb gardening) in 2020, a significant increase (up from 33%) from 2019.
Further, households that participated in growing berries (43%), water gardening (42%), and herb gardening (39%) in 2020 most likely plan to spend a great deal or slightly more on lawn and garden activities in 2021 than they did in 2020.
What does this mean? Home-growers, cocktail enthusiasts, and mixologists alike are embracing this hyperlocal trend, leading to a heightened appreciation for fresh elements in cocktail creation.
Here, we share some favorite Wilmington venues leading that charge, and suggestions on how you can jump on this refreshing bandwagon.
Torbert's Big Secret? All Fresh!
Wilmington's Torbert Street Social mixologists Victoria Reed and Brett Smith pride themselves not only on their staunch use of fresh components, but also their inventiveness. Reed — who develops Torbert's cocktail names and recipes — says the lounge serves only fresh juices and fruits; all syrups and infusions are house-made; and servers come in two hours early just to prep ingredients.
She also says they're very conscious about trying to stick to "no waste" practices. For example, dehydrating pineapple pieces and using the tops to garnish other items. They don't grow anything onsite, but their purveyor of choice, Teddy Bear Fresh Produce of Easton, Md., provides all their fresh essentials.
"I mostly get inspiration [for drink recipes] from going to farmer's markets," she says. Does she have a go-to spot? Anything off the side of the road, she laughs. Reed also heads to Sprouts or Whole Foods to check out some of the exotic fruits for ideas.
"Like dragon fruit, for example," she says. (Torbert has a selection called "Crouching Tiger, Hidden Dragonfruit.) "That [drink] is based more on the color of the fruit more than the flavor." The cocktail is impressive, served in a tall glass and made with Ketel One Botanical, Aperol, lemon, dragon fruit simple syrup, and club soda. It's one of the most popular drinks on their menu, along with the Wilma!! — a Fruity Pebbles (yes, the cereal) infused rum. "That's my favorite," she says of the Wilma!! infusion.
Another of their super-fresh, infused creations is The Gardner's Tonic, made with Gardner's gin, basil, cucumber, jalapenos, cherry tomato, and tonic. "It's like a liquid salad," one of our crew laughed. "I feel like I'm doing something 'super-healthy' [by drinking this]."
Smith says gin drinks are his favorite right now. He's recently experimented using Chartreuse, a French liqueur available in green and yellow versions. With this, he makes a drink called a Lumiere. Although not currently on the Torbert menu, Smith's cocktail includes Green Chartreuse, Hendricks gin, a dash of orange bitters, fresh-squeezed lime juice, and Italicus, an citrusy, floral liqueur crafted with Calabrian bergamot and botanicals. The drink itself shines a luminescent green. (When he mentions it, a server at the sidebar exclaims, "Ooh, Lumiere!"…so this cocktail must be something.)
Erin Noonan is owner of Magnolia Lounge, a mobile dry bar and tap truck (housed in a refurbished vintage 1960s truckster) that can be reserved for weddings or private parties. Magnolia's signature drink and one of the most requested for events is the Magnolia 75. It's a blueberry basil lemonade topped with Prosecco — a twist on the classic French 75.
For Magnolia, Noonan makes simple syrups and juices at home. While she doesn't grow her own, she says she's very selective about ingredient quality. She likes to support local farms and growers, like Fifer Orchards, when she can.
"Going to local restaurants definitely gives me inspiration to create new recipes," Noonan says. When she and her husband go out, they enjoy places like La Fia and Copper Dram for really good cocktails.
So, why are fresh ingredients so popular now? 
"I just feel like it's easier to control the flavor of a cocktail," says Reed. "It does make a difference…like a Whiskey Sour made with bottled sour mix versus our fresh version. You can just tell which is which."
Dave Govatos, owner of Swigg Wine & Spirits, agrees. "I put an herb garden in at our house, because I realized — just like when you're cooking — you want the freshest ingredients possible. And it makes a huge difference when you're doing cocktail construction."
A Crow Grows in Trolley; Swigg Gets a 'Fresh' Addition
Andrea Sikora is also a fresh ingredient devotee. Sikora, along with husband Chef Bryan Sikora, is owner of La Fia, Crow Bar, and Merchant Bar, all in Wilmington.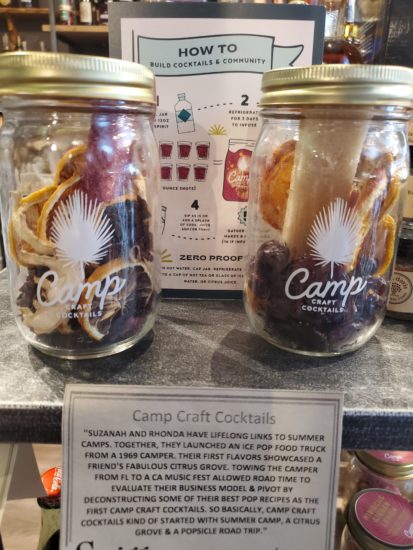 "We maintain an herb garden behind Crow Bar in Trolley Square — mainly mint, basil, sage, and rosemary — that we use in cocktails at Crow, Merchant, and La Fia," says Sikora. "We also make our own orgeat* from toasting and soaking almonds; dehydrate fresh fruit for garnishes; and soak fresh fruit in brandy for our sangria." She also mentions they recently started making cold brew coffee for Crow Bar martinis. "…by popular demand from our Trolley neighbors." (*Side note: Orgeat is a sweet syrup made from almonds, sugar, and rose water or orange flower water.)
The herbs grown at Crow Bar feature prominently in cocktail programs of all three locations: Orgeat is used in a lot of Tiki drinks, like the Crow Bar Mai Tai. The Peach Smash (bourbon, peach preserves, fresh basil, and lemon) is popular at Crow Bar in the summer, too. The Matador at La Fia incorporates their fresh rosemary. Fresh blackberries are found in the Merchant Bar Blackberry Sour and Crow's Superfly, the latter of which also uses sage from their garden.
From Swigg's perspective, getting into growing fresh herbs was an extension of the customer service Govatos provides. After he began growing herbs at home, he figured the next logical step was to grow at the shop as well.
"I said, 'why don't we do this at the shop?' It makes perfect sense," he said. "We're cocktail-focused here, so wouldn't it  be great to offer to customers coming in to build their cocktail pantry." Patrons are welcome to select from the garden, which is positioned right outside the shop doors.
"We started last year, putting this little cocktail garden together," he says. "It really won't be in its 'normal' state until July and we'll be adding more to it." The Swigg garden has included rosemary, lavender, thyme, sage, basil, and mint. Last year, Govatos laughs, they had so much mint, they were giving it away in bundles.
Govatos notes the three main "sources" for herbs in cocktails: garnish, muddling, and infusions or syrup. "You can use vodka to infuse anything," he says. "I use rosemary a great deal for Mediterranean gin & tonics; rosemary and thyme that I steep into gin; basil works really well with gin or vodka, too; and mint pretty much works with everything."
In addition to complimentary fresh herbs (and rich selections of hard-to-find and "boutique" rums, gins, vodkas, and more), Swigg sells craft cocktail "kits" of dried herbs, fruits, and step-by-step recipes.
Craft Cocktail Creation — Not Just for Experts
Happily, this trend is not reserved for only those who sell or sling our favorite concoctions. Mt. Cuba Center is offering a class where all of us "Average Joes" can learn to create at home! "Go Native with Infused Vodkas" is offered Sunday, June 20 from 1 to 3 p.m., hosted by Diane Keesee, a mixologist and 20-year hospitality and beverage expert. She will demonstrate the ease of creating uniquely flavored vodkas using native plants, although her class will use those specifically found at Mt. Cuba, like passion fruit.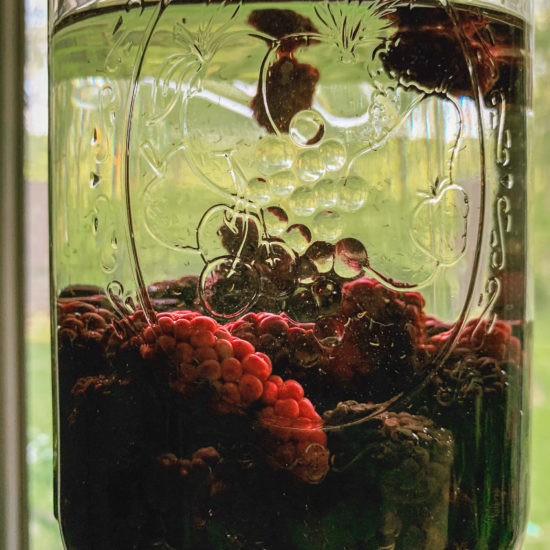 Her class focuses on vodka because, as Keesee says, "It's a neutral spirit that doesn't add flavor to whatever you're using." Some of her favorite vodka additions also include prickly pear fruit ("…just peel and use the red center for infusion") and blackberries ("…they pair well with mint and club soda, and you don't need sugar").
Why does Keesee feel people are getting into more gardening and fresh cocktails? "People have had a lot more time at home (due to COVID) and weren't going out to their favorite restaurants," she says. "And, once you've finished working in your garden, a cocktail is the perfect thing to have while you're admiring your plantings and surveying all of your hard work!"
Her advice for those venturing into the fresh cocktail realm is to maintain basic pantry staples — a favorite spirit; pineapple or watermelon, which are popular in summer; basil and mint; and club soda. Be as creative as possible, and come home with new ideas. And, as long as it's edible, you can put it in alcohol. You can register for Keesee's class at mtcubacenter.org/cocktails.
For fruit-focused cocktail fans, there are some great books to discover, recommended by Keesee and Govatos like Garden to Glass: Grow Your Drinks from the Ground Up (Mike Wolf) and The Drunken Botanist: The Plants That Create the World's Great Drinks (Amy Stewart). Govatos personally hasn't done a lot of fruit infusions, but also recommends Drinking French (David Lebovitz), which contains a fair amount of step-by-step infusion and puree recipes.
To begin growing fruits in your home space, companies like Star® Roses and Plants, located in West Grove, Pa., are a sound place to start. Their Bushel and Berry® collection features compact, easy-to-grow, edible berry plants geared especially to the home gardener. Their varieties can be found online and in garden centers throughout the region and include hanging baskets of strawberries and blueberries, as well as container-friendly strawberry, raspberry, and blackberry bushes. Learn more at BushelAndBerry.com.
---
New Gin Cocktails
Basil-Watermelon Bliss
1 ½ oz. gin
½ oz. St. Germain
1 ½ oz. freshly pressed watermelon juice
3 or 4 fresh basil leaves
2 slices of cucumber
2 wedges of lime
Splash of soda
In a cocktail shaker, muddle lime, basil leaves, and cucumber. Add remaining ingredients and a scoop of ice. Shake well and pour over ice, top with soda and garnish with a sprig of basil or lime wedge.
Thyme Out
1 ½ oz. of your favorite gin
4-5 sprigs of fresh thyme
3 slices of lemon (2 for muddling and one for garnish)
2 to 4 oz. Tonic water
Muddle thyme and lemon together in highball glass. Add ice, gin and tonic water. Stir well and garnish with lemon wedge.
Blackberry Infusions
Infused Blackberry Vodka
Ingredients:
• As many fresh blackberries as you can pick
• Vodka – enough to cover the berries plus an inch or two
Directions:
1. (Optional): Preheat oven to 200. Wash blackberries and place on cookie sheet. Turn off oven and bake blackberries in oven for 30 – 40 minutes. If you have a gas oven with a pilot light, place berries in oven overnight with just the heat from the pilot light
2. Add fresh or cooked blackberries to mason jars and top with vodka of choice. Tighten lid. Allow to soak for a month and shake everyday.
3. Add infused blackberry vodka to lemonades or club soda for a drink that captures the spirit of summer.
—Created by Diane Keesee, Mixologist, Mt. Cuba Center