Now established, the scene sets a new course
In 2014, Wit Milburn decided to leave the family business, Ubon Thai Kitchen & Bar, and buy a food truck. The chef wanted to experiment with rice bowls and taco fusions, and Kapow gave him a chance to test the waters.
He wasn't the only one to spot the trend. In 2015, seasoned hospitality veteran Steve Ruiz revved up the Mojo Loco food truck. "It's eclectic street food," explained Ruiz, who honed his craft in Rehoboth Beach restaurants and, locally, at Eclipse. "It was the start of the whole food truck craze in our area. We caught the wave at the right time."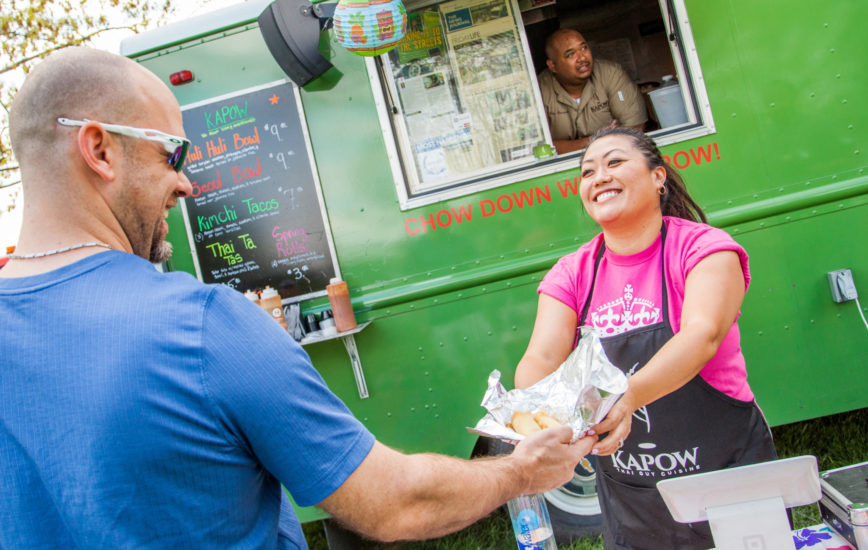 So did Billy Rawstrom. That same year, he bought a truck to expand Maiale Deli & Salumeria's brand and increase off-site catering sales.
And, oh, what a long, strange trip it's been.
It's certainly been up and down," says Rawstrom. "When we first got into it, there were a lot of jobs and festivals. Before COVID, it was waning a bit."
Ruiz feels that the market became oversaturated; some owners hung up their keys. Then came the coronavirus. "Once COVID hit, food trucks were the way to go as far as serving customers," he maintains.
For one, operators don't need to worry about dining capacities and table spacing. There is a buffer between servers and the customers, who can socially distance.
But that doesn't mean the industry lacks challenges.
On The Road
Selling food from carts or street kitchens dates back to the 1600s and beyond. (In those days, many people lacked kitchens of their own.) In the 20th century, food trucks were a fixture on construction sites and big city streets.
Roy Choi took the concept to the next level in 2008 when he opened Kogi, a Korean barbecue truck in Los Angeles. Suddenly, hot dogs and meatball sandwiches were passe. Street food was fun food. Consider Cajun-Sno, the Louisiana-style snow cone truck that Meg and Dan Hurst started in 2013. The finely shaved ice has the texture of fluffy snow, and the juices are high quality.
In Delaware, the number of food trucks soared, following a national trend. Research firm IBISWorld estimates that more than 24,000 food trucks in the U.S. are doing about $1 billion worth of business annually.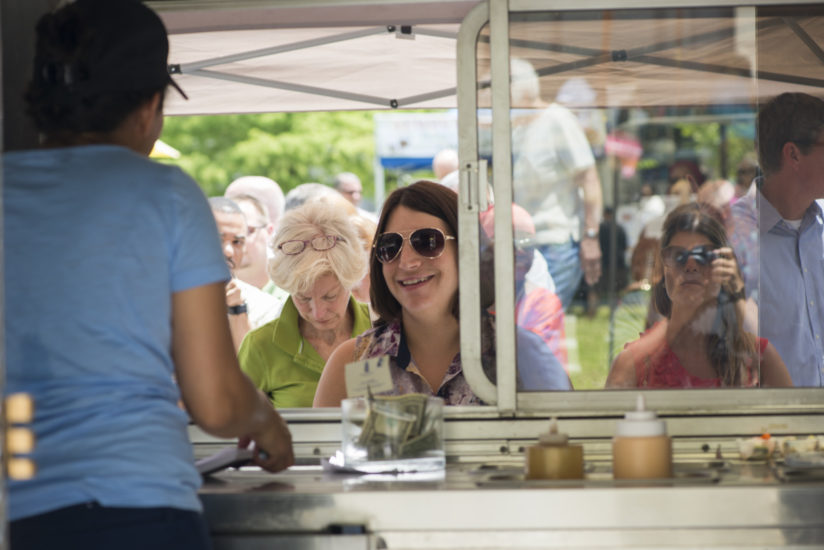 Why are they so appealing? "I'm able to work for myself," Ruiz explains. Because a food truck has lower startup costs than a restaurant, entrepreneurs can get into the business. Leigh Ann Tona created the concept I Don't Give a Fork for a University of Delaware class assignment and won $1,000 in the school's business plan competition. Her clever idea featured handheld menu items, such as the mac and cheesesteak sandwich, a roll packed with meat, onions, and macaroni and cheese.
The graduate hit the ground running and her brightly painted orange truck was a familiar sight at industry events sponsored by Rolling Revolution, a local association co-founded by Milburn and his wife, Jody.
Tona pulled up alongside Zach DeLong's Scission espresso truck, and the colleagues are now partners in life and business. In May, they opened Sleeping Bird Coffee, a bricks-and-mortar shop between Wilmington Brew Works and La Pizzeria Metro.
Tona initially planned to keep I Don't Give a Fork. "It's a really good gig if you have the clients and have been in the game for a while," she says. "I was kind of tired of it. You're either freezing on the truck or super-hot. You have to drive to Restaurant Depot every day because you lack storage. I just didn't want to do it anymore. I wanted to do something different."
DeLong, however, is keeping his truck, which complements the coffee shop and is parked out front. Before the partners opened Sleeping Bird Coffee, they served customers from Scission and built a following. (He has since renamed the truck to match the shop's brand.)
The Best — and Worst — of Both Worlds
The evolution from food truck to restaurant is not unusual. Milburn, who owns two food trucks, opened a Kapow location in Booths Corner Farmers Market. (He now manages Ubon as well.)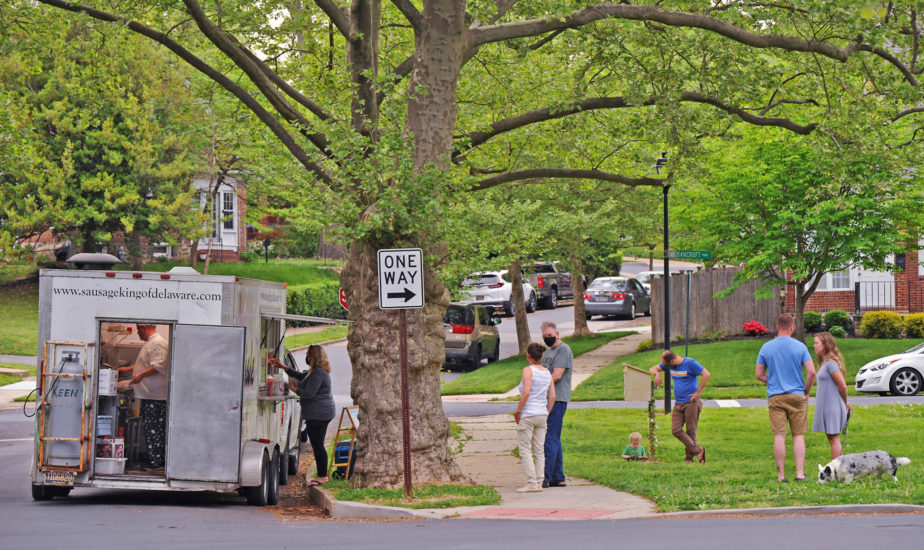 Mike Stanley, whose WiLDWiCH concept was one of Delaware's first food trucks, operated WiLDWiCH Café at 800 Delaware Ave. for nearly five years. He opened a second café on King Street in Cocina Lola's old space
Bricks-and-mortar, however, has a drawback — or two. On King Street, Stanley counted on serving lawyers and courthouse workers. However, the lawyers flocked to restaurants with higher price points, and the workers wanted inexpensive fare, he says. Business sputtered in summer. After six months, he closed.
The first café was near office buildings full of workers. In spring 2020, that number dropped from thousands to under 100. Stanley could not offset losses with his truck. That's because a car had slammed into the parked vehicle and totaled it. In November, Stanley closed the café.
The pandemic also affected the Hursts, who'd purchased Sweet Lucy's Ice Cream & Treats on Feb. 28, 2020. In response, they opened a window to form a makeshift drive-through.
The Hursts had never put their two trucks away — they had three but sold one to pay bills — and they gassed them up to peddle the frozen confections.
A New Path
Festivals and public events were clearly off the schedule in 2020, but operators soon cruised into a new niche. "During the pandemic, neighborhoods started bringing in food trucks to feed residents, which continued," Milburn says.
Ruiz and his colleagues once joked about driving through neighborhoods like an ice cream truck and selling tacos. "But it's exactly what we turned to because we were devastated," Ruiz says. "We ran with it."
Ruiz and partner Alyssa Schubert, who have two trucks, began promoting the service on social media. The tagline: "Bringing curbside pickup to your neighborhood."
New communities on former farm fields were starving for dining options. So were neighborhoods full of young families. For Ruiz, a single order from one family can top $120. He credits his extensive menu. "We have sides and appetizers like hushpuppies and empanadas," he says. "We have desserts and multiple types of tacos. So, they want to try them all — the authentic Cuban sandwich and short grilled cheese."
Hurst has heard fellow vendors proclaim that they will never pay event fees again, thanks to the community bookings. But she needs more volume. Since ice cream and snow cones have a low price point, she needs 200 sales, not 20.
Rawstrom is also doing private events, which is a plus considering his restaurant catering dropped 80 percent. "A lot of people are booking the truck for parties because people can get fresh, hot food and still social distance, and they won't have issues with transference from using the same buffet utensils," he says.
Meanwhile, Stanley is back where he started. Sort of. He purchased Tona's truck and is winning raves for his Burgers by WiLDWiCH, which has a spot on the corner of Concord Pike and Sharpley Road.
Stanley garners social media praise for "smash" burgers, round balls of meat pressed onto a 500-520-degree flattop to develop a meaty crust. Customers also praise his house-made sauces, including the mayonnaise. He hopes to open a bricks-and-mortar version when he finds the ideal space.
A restaurant is also on the mind of Jonathan Mitchell, who wants to put Mitch's Mo' Better Chicken on the road in June. Mitchell uses a recipe developed by his grandfather, Lucien Dillingham. The latter once owned a Chicken George franchise at 30th and Market streets in Wilmington in the 1980s and became a successful concessionaire in Atlanta.
Like Tona and DeLong, Mitchell gave his concept a trial run in front of Wilmington Brew Works. When the truck's artwork is complete, he plans to visit the brewery on weekends. Eventually, he wants to open locations across the tri-state area.
The seasoned vets have some words of advice. "Be prepared to grind it out and network as much as you can. Put out a good product," Rawstrom says. Speed is of the essence, Ruiz adds. It doesn't matter if you sell an upscale product; customers view a food truck as "fast food," and they won't wait.
But it's worth it, he maintains. "We love our life."